There are a range of business opportunities to consider in which sustaining Citizen Observatories is a goal. However, they are dependent on the Citizen Observatory's focus, maturity, partners and other factors. A Citizen Observatory may create economic value, enhancing data acquisition and creating new services as a result. Yet to ensure continuation, it is a good idea to plan for business model development and innovations in service propositions during the lifetime of the initial funding period.
Citizen Observatories frequently define and build novel value-added products and services based on the project's data and tools. Business models can support market uptake and innovation as well as ensure that data and resources have a longer life.
Business models can take time to develop. For instance, during the GROW Observatory project a number of models were considered. Some centred around the data either as a service or as insights into the data from different stakeholders. Alternatively, innovative models around methods and tools, or education, might also be relevant.
Look carefully at your Citizen Observatory and consider the following points:
What products and services have you created that might be marketable?

What could be the target markets?

How will you organise the business in terms of a legal entity, do you want to be a charity, NGO, limited company or something else?

What will be the key activities for the first couple of years of operation?

Do you have a financial plan ?

What steps do you need to take to put the plan into operation?
In order to determine a business model, all aspects of the Citizen Observatory's work should be analysed in the context of broad market research. Consider the different products and services that could add the most value to the Citizen Observatory stakeholders (and future customers or partners). This will help you to understand how these can support long-term financial sustainability. That process can involve a number of exercises to assess the numerous assets that are available, the potential market and the financial viability.
An evaluation of the economic landscape of each service should be undertaken to determine how the service could be scaled up and whether there would be a market demand for it. You can achieve this by paying considerable attention to the strengths, weaknesses, opportunities and threats of each service provision within a project portfolio.
A validation process may include:
The Service Innovation Lab, using value proposition and business modelling methods and tools;

Interviews with core Citizen Observatory stakeholders, such as service users, research scientists and policy-makers, to inform the development of your value proposition and business model;

Desk research to learn about the business landscape (demand for your Citizen Observatory's services and any existing competing services), and to create financial models for your plan; and

Interviews with stakeholders, including industry leaders, fund managers (including domestic ones) and insurance companies that may be relevant to the service proposition.
An innovation lab can bring together stakeholders and service users in a collaborative space in order to define the key aspects of a plan for sustainability. In this space, there is the opportunity to use a Service Design framework to formulate concepts such as a 'value proposition' and 'business model'. 
For instance, the Value Proposition canvas (below) is a framework that helps participants ensure that the product-service idea fits the market. It enables exploration of the relationship between customer segments and value propositions and highlights the roles involved. It explores the expected pains and gains and how the service will eventually maximise the service value.
Similarly, the Business Model canvas can provide an overview of the service in terms of value proposition, infrastructure, types of customers and financial model. It can help you to understand what activities are needed in order to build and deliver a service and identify potential trade-offs.
Value Proposition Canvas
Whether your Citizen Observatory is looking to fully sustain itself or to promote targeted innovation activities, there are opportunities to encourage the uptake and use of Citizen Observatory data by industry and SMEs. Initiatives such as an Open Data Challenge (ODC) can demonstrate how data acquired within Citizen Observatory can help private sector businesses address data needs and gaps.
The purpose of this activity is not primarily to engage a large number of people, but rather to create a number of sample applications that might:
Planning an Open Data Challenge from the Nesta Open Data Challenge Series Handbook
To run a successful competition, you might wish to consider the following points and generate appropriate documentation.
Competition Call – Create a description of the 'event' and the format. Have you got mentors in mind? What frequently asked questions are likely?

Look at the data sets you have; are they suitable?

How are you going to give people access to your data? You might want to produce videos describing the data. You will need to create a licence for your data; you could consider a creative commons licence.

Who is going to judge your competition? You will need a panel of experts, some of them external to your organisation.

How are you going to award the winners? Will you hold an event, and who is going to organise it? Is there an opportunity for a demo at a conference or other event?

How will you publicise the competition? Can you reach parties that may be interested, perhaps through connected organisations, email lists, Twitter, Facebook, etc.? Have you got an organisational website that can carry details of the competition?

How will you support the competitors? WeObserve set up a Slack channel that all competitors were asked to join. Mentoring was carried out on Slack and through video calls.

The WeObserve ODC ran a webinar about the data which was publicised in a similar way to the competition, and this was used to draw competitors in.

Will you create a competition packet for the competitors with an FAQ and details of how they should enter the competition and how exactly what they need to do to satisfy the entry requirements? WeObserve required a code and a 5-minute video explaining the concept.
An Open Data Challenge was publicised on the WeObserve website, but more importantly, through social media and personal communications with people likely to take part. The challenge was simple: take the data from one or more of the Citizen Observatories and combine it with other data to create a new and possibly commercialised service.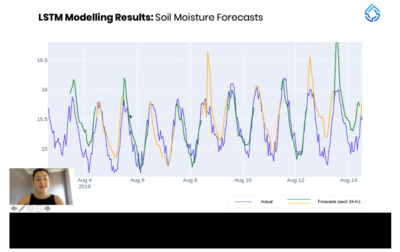 Video: Gulsen Otcu discusses the HI-TERRA project
Establishing a modular system architecture that is connected directly with the processes of end-user organisations is another way to facilitate the sustainability of the Citizen Observatory after the funding period. The underpinning mission is to make Citizen Observatory outputs easily replicable and scalable, while at the same time generating economic value and social capital. This is the approach realised by the Scent Citizen Observatory, which introduces a flood management and monitoring service relying on citizen-generated data while being directly exploited by relevant end-users
Lessons learned from the WeObserve Open Data Challenge

The WeObserve team learned some valuable lessons from the Open Data Challenge, most importantly the need to mentor the teams during the competition. We found that the teams with strong mentoring produced the most viable proposals and projects. Not all teams had the experience to produce a product, but nevertheless they could contribute useful ideas. A team brokering exercise could have helped in that situation. Not surprisingly, the exercise produced some unexpected uses of the data, such as food energy calculators for farmers in Nigeria. You never know how external people will be able to use your data! All entries to the competition were open source, so that others could learn from the experience of those taking part.

The competition attracted 44 teams. Nine final entrants provided all the material requested, including details of the project and a short video describing what the team had decided to do. These entries were judged by a panel of citizen science experts, and two were selected to spend 4 months creating a final demonstration project that was presented at the ECSA Berlin conference.
You may also be interested in:
This work by parties of the WeObserve consortium is licensed under a Creative Commons Attribution-ShareAlike 4.0 International License.