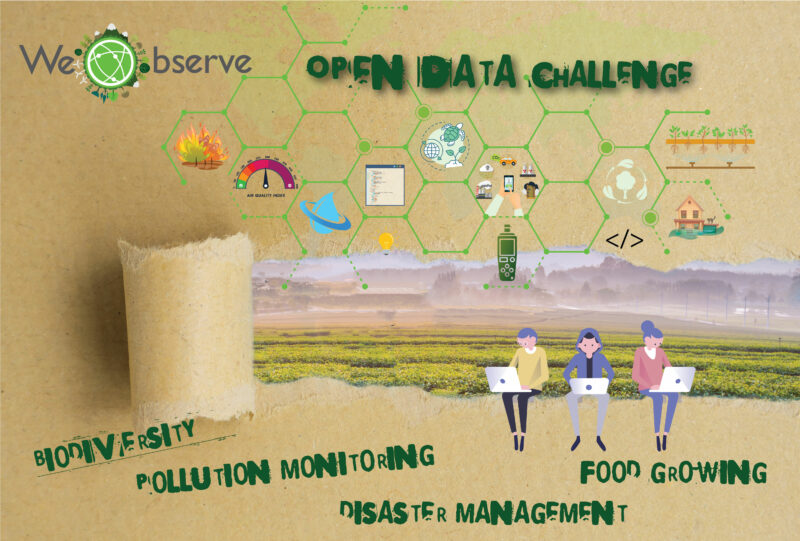 Addressing climate challenges requires help from everyone, and Citizen Observatories aspire to deeply engage citizens to gather data and information about the environment to support better decision-making, new services and make change. 
WeObserve is opening data from four Citizen Observatories to create new digital transformation opportunities by using open data for products and services that can be implemented for wider social good. There are a few key events that make up our Open Data Challenge: i) Team registration, ii) Consent for access to online datasets, iii) Challenge themes and opportunities, iv) Guidance from a mentor, v) Submission and demonstration at a final event. Each of these events are free and open to all.
With the acceleration of climate change, addressing environmental challenges has never been more urgent. More people now than ever before have direct experience of the increased pressure on our planet. They are calling for better protection for local issues that have an impact in their lives, from extreme events such as flooding and wild-fires to pollution. At the same time, people have to global concerns related to the wise use and regeneration of natural assets, biodiversity loss and risks such as food security. 
Environmental data can help to address these issues. As a result of citizens coming together with scientists and other stakeholders there is a growing amount of high-quality and open data to apply to these challenges. There are opportunities to merge open datasets from local governments and data from these Citizen Science projects to produce new and exciting data products. 
We see innovation potential in developing technologies, services and models e.g. in land management, biodiversity trackers, pollution monitoring, agriculture and disaster response. There are also opportunities to support people's values by removing barriers, such as conflicting attitudes and responsibilities, lack of time, trust or space, or providing training and incentives to solve local issues through pro environmental action. It is clear that we all have a role to play and there is a great deal that needs to be done.
Thus, the objectives of the WeObserve Open Data Challenge are to:
Find new approaches and solutions to environmental challenges through the use of one or more WeObserve Citizen Observatory open datasets, that can can be also combined with

additional datasets from other sources.

Produce innovative applications, services, including visualisations. The focus of the demonstrators can be local or global, urban or rural.

Showcase a solution for using open data for social good through our themes for the benefit of the public, environmental or challenge relating to climate change.
Explanatory videos will give teams more details on the descriptions, features and datasets relating to the challenges. Additionally, teams will be able to engage with expert mentors online. Mentors are familiar with specific datasets and can help guide teams.  
Two tenders, each to the value of €5,000, will be awarded to winning entries!
PARTICIPATION & REGISTRATION
There are three phases in Open Data Challenge. The first phase starts with registration. For participation, please register here.
In the second phase, the participants submit their project for the tender as follows:
A 10 minute (maximum) video introducing the concept and demonstrating the solution
Software artefacts, either by file upload or via a github repository
Completion of project information (via a supplied webform)
In the third phase, demonstration by teams (represented by a maximum of two members) will be invited to WeObserve Conference, which will include participation in one compulsory day to present the solution at a live demo. Winning teams will update the documentation of their idea, prototype and resources as part of the tender award in October. A summary of each winning project will be made publicly available by the WeObserve project.
WHY YOU SHOULD PARTICIPATE? 
W

hen you participate in the Open Data Challenge, you will work in a team and

learn more about environmental challenges

as well as sharpen your skills – whether those are soft skills or technical!
You'll be directly

helping to make a difference

, demonstrating citizen's data can be used for new solutions, and potentially solving environmental problems. Throughout the Open Data Challenge, you will have access to mentors who can guide you along the way.
There are up to

two €5,000 cash tenders

available based upon the work that teams complete, submit and demonstrate in the Open Data Challenge.
The following criteria will be taken into account, each with a scale of 1-5, and each submission will be awarded a maximum score of 15. The winning entries must demonstrate:
Solution and Data: An experimental proof of concept that can be interacted with to demonstrate functionality, with a Technology Readiness Level of 3.  It should use one or more WeObserve datasets at the heart of the concept. Datasets can be combined with other data. Uphold FAIR Principles for any resulting datasets or code. The result should be a new, original solution including a service, mobile or web application, visualisation or demonstration of applying data science by linking datasets for the generation of new insights.
Concept: The idea should address one of the thematic challenge areas provided or outline a new one. The concept must clearly communicate why the solution matters and who it benefits. It needs to have beneficial social impact, such as meaningfully improving the lives of people, the environment or the planet.
Team and Market: The team should be clearly defined and indicate who will use the product or service and why, including a description of all relevant stakeholders . The team must be available and able to commit to providing a demo and a publication for documentation purposes at the WeObserve conference and other WeObserve communication and dissemination channels.
Teams are free to focus on a single WeObserve dataset, or combine this with additional datasets from other sources. The focus of the demonstrators can be local or global, urban or rural or you can address a broader environmental issue or challenge relating to climate change. Teams should be aware of the United Nations Sustainable Development Goals (SDGS) and should attempt to address some of these goals in their application.
Registration opens:

May 15, 2020

Registration closes: June 15, 2020

extended to June 21, 2020

Submission deadline:

July 31, 2020

Awards announcement:

by August 31, 2020

Awards demo:

October 15, 2020