This course starts on 5th October, 2019, is free and open to everyone. Sign-up now on FutureLearn here!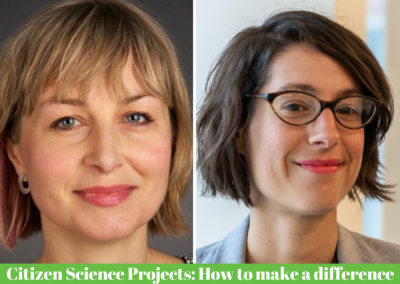 Mel Woods (MW): We Observe ran its first Massive Open Online Course last November. Why has the team decided to run the MOOC again and has anything changed?
Raquel Ajates (RA): There are three main reasons why we are running the 'Citizen Science Projects: How to Make a Difference' MOOC again. First, we wanted to give learners from last year and new people wishing to join the course this year access to new tools and resources. We hope the revised content will support and inspire learners in exploring citizen science and citizen observatories. In this run, we have prepared a variety of open-source downloadable tools for participants with tips on how and when to use them. Second, this year, the world has been affected by one of the most serious health crises of the 21st century. The COVID-19 pandemic has challenged the citizen science community to adapt quickly and contribute solutions. We decided to create some new content to reflect this reality and frame it from a positive angle with opportunities to be part of solutions.
Finally, WeObserve has recently run an Open Data Challenge and we wanted to share ideas for practitioners working on citizen science projects who might wish to open up their datasets to invite innovation applications using these data.
MW: What would you say to people joining the course for the first time?
RA:  I'd say Welcome to the WeObserve MOOC community! If you are interested in exploring citizen science, you are in the right place! This MOOC is a fantastic, flexible and free opportunity for people from all over the world to learn together about citizen science and share their knowledge with each other. An added bonus is that the scientists and researchers who have written the course are able to join in and answer queries as well.
I'd also say, if you're thinking of joining, but you are slightly unsure as to whether you would find your way around the technology and learning space, don't worry! The FutureLearn platform is incredibly easy to use. There is a great diversity of straightforward materials and features; you can even take the course on your mobile. There are articles, videos, quizzes and polls, all of which promote a rich and accessible learning resource. FutureLearn promotes a very interactive approach. There is a strong focus on social learning, if you want to you can have discussions and dialogue between educators and learners, and amongst learners themselves.
MW: Is the course relevant to people concerned about climate change?
RA:  We're in turbulent times, and while the pandemic is at the forefront of our worries, climate change has not gone away. There are a lot of people, even more now than when the first course ran last year,  who are very concerned with the environment and are facing increasing climate events, like wild-fires and flooding. The WeObserve partners have been developing some really interesting projects, and now they can share their ways of working and knowledge in a MOOC to pass this on to others who want to do something similar. That's why we created this course.  We've seen how citizen science has empowered many individuals and communities in gathering evidence and creating strong cases for change, and opening up constructive ways to be part of shaping positive alternatives.
MW: Would you say the course is an opportunity for distraction or to become active and take part in contributing solutions to these global challenges?
RA: Both. During the lockdown, people not only turned to citizen science projects to find a distraction, but to actually learn about citizen science and to look for a way to collaborate with others and to take an active part in helping science and communities.
The current pandemic situation has highlighted how adaptable the citizen science community can be and has opened opportunities for reflection on how innovative ideas in times of crises can be supported for timely solutions where and when needed. When citizen science projects cover time-critical and life-critical topics, such as a global pandemic, or extreme weather events that require immediate action, the participation in and use of citizen science can shift from being an activity for distraction to a timely tool to help people and governments make decisions regarding scientific topics.
This course will encourage learners to consider the relationship between citizen scientists, experts and policymakers in our pre-and post-pandemic world. To think about what lessons might it bring to improve future collaborations between these three groups.
MW: Thank you, yes, that seems like a positive future to look forward to. This is the last time this course will be available and we are really excited to be able to run it again and hope many people from across the world interested in citizen science and maybe curious about starting their own citizen science projects can join.
RA: We look forward to seeing everybody on 5th October. In the meantime, keep an eye out on the WeObserve social media channels for new updates!