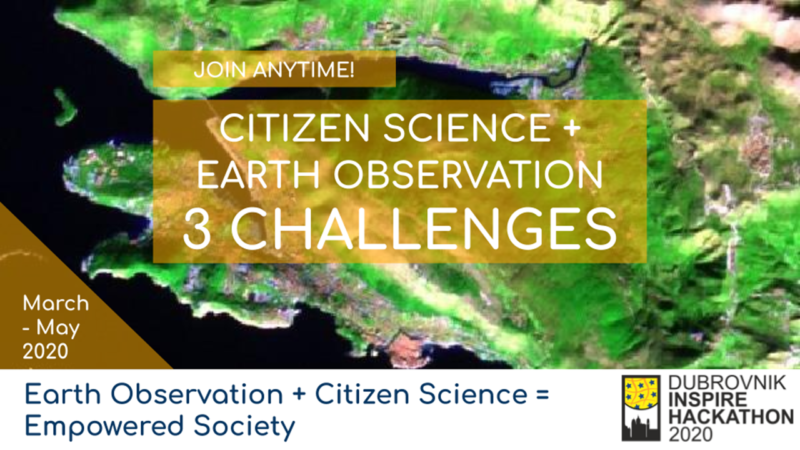 The more you know, the better you are equipped to make good decisions. Knowledge is based on information and data and in this year's INSPIRE Hackathon there are multiple challenges related to Citizen Science and Earth Observation. Through these challenges, we aim to make a whole range of citizen science sources data and information both discoverable and accessible together with other sources such as GEOSS, Copernicus and more. Citizen science sourced data can fill gaps and add value to these other sources of Earth observations through facilitating expanded use of space-based observation and enrich our in-situ data bases with more data. 
We are confident that the use of INSPIRE tools for making data interoperable along with standards from OGC will help participants in the Dubrovnik INSPIRE hackathon succeed in solving the challenges. This year's all-remote Hackathon has started (end March 2020) and will be ongoing until 11th June 2020 concluding in a final online workshop.  The results from these challenges will contribute to the Group On Earth Observations work programme, particularly the Citizen Science Community Activity and the NextEOS Community Activity, but also to the implementation of the GEO data sharing principles and data management principles.
WeObserve co-organises and facilitates three challenges
The annual INSPIRE conference
The annual INSPIRE conference was meant to be held in Dubrovnik, Croatia and is therefore lending its same to this year's main INSPIRE Hackathon. As usual the Hackathon will consist of a longer virtual or remote phase. The end and final workshop will also take place online this year on June 11th.
Read more about the other challenges that the Dubrovnik INSPIRE hackathon offers here .
An important component of the INSPIRE hackathons are the webinars. As part of the activities in each of the challenges, webinars were aslo organized where participants and others (webinars are open to all) could learn more about technological and thematic topics, as well as establish a deeper understanding of the challenges.