We are happy to announce the first joint event of the 4 sister CO projects
"Observing the Environment: Challenges and Opportunities in Citizen Science"
Date: Wednesday, 9 October 2019, 09:00-16:00
Venue: Brussels EC Office
 COV2 Building, Covent Garden 2, ERCEA ROOM COV2 00/SDR2 AUDITORIUM (70P) Place Rogier 16 1210 Brussels, BE
Register here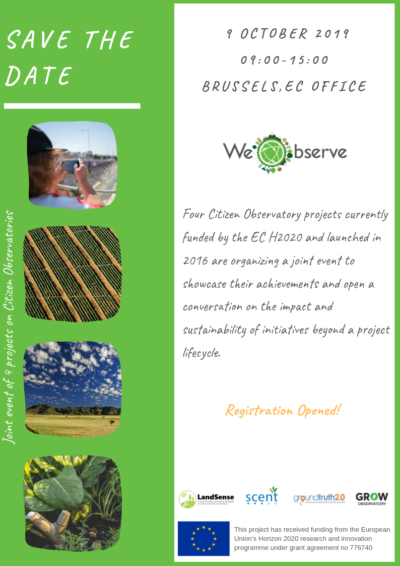 The rise of citizen science has led to the development of Citizen Observatories (COs) for environmental monitoring. COs have proven to be effective in engaging citizens and increasing environmental awareness. They also complement the EU's Earth Observation monitoring efforts by increasing the availability of ground-based observations. COs have been gaining momentum starting with the European Commission's Seventh Framework Program, to Horizon 2020 and beyond with Horizon Europe, the next research and innovation framework program. Vast opportunities exist to carry forward the work of pioneering COs.
The four Citizen Observatory (CO) projects launched in 2016 and funded by the EC H2020 are coming together to showcase their achievements, share best practices, and discuss their impact and sustainability beyond the project lifecycle. Join us to learn more about these sister Citizen Observatories.
We will discuss important issues affecting COs, including key challenges, methodologies and tools, impact and sustainability, as well as future opportunities. Besides exchanging ideas and lessons learned, the outputs of this meeting will feed into a report summarising obstacles and recommendations for future programs. The event addresses citizen science practitioners, people involved in planning, setting-up, or leading a CO. The agenda is available here.
This event is organized by the WeObserve project, which aims to improve coordination among existing COs and related regional, European and International activities, in collaboration with European Commission. Stay connected with WeObserve through our website, or join our social media: Twitter @WeObserveEU, Facebook: @WeObserve_EU, Instagram: weobserve_eu and YouTube: WeObserve channel