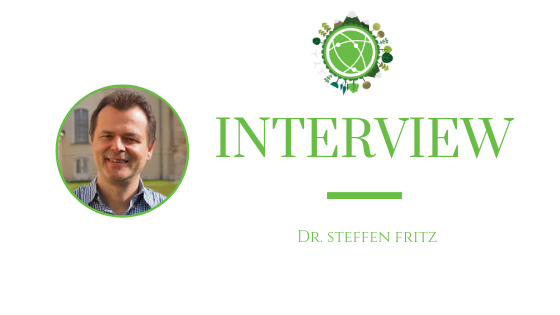 We spoke with Dr. Steffen Fritz, the WeObserve coordinator, and head of the Center for Earth Observation and Citizen Science (EOCS) in the Ecosystems Services and Management (ESM) Program at the International Institute for Applied Systems Analysis (IIASA).
With citizen science gaining ground and trending in modern science, we asked Steffen his thoughts on why someone would want to be citizen scientist, and what would be the main benefits of getting involved in citizen science. "It is very important to understand the incentives of participants involved in citizen science," he emphasized, and then went on to name some of the main motivations currently known. "As we have observed from the past, there are different incentives that attract people to citizen science and many reasons for choosing to participate. What first comes to mind is that people, in principle, are interested in contributing to open science, but also they want to learn new things and be part of the scientific endeavor. Looking at the most successful citizen science platforms, we notice there are also many volunteers, for example students, who would like some form of recognition for their contributions. Others want to share what they see, what they have observed through their participation in citizen science. An important element, of course, is that involvement also provide a degree of fun. People enjoy engaging campaigns that have an element of fun, such as easy-to-use, well designed, enjoyable apps with attractive user interfaces. The touch and feel is important. Additionally, some people are interested in improving their skills, maybe even adding their experiences and contributions to their CVs. Others may have more altruistic motivations and enjoy working for a greater good. The main point is that individuals, by contributing to citizen science projects, should feel they are getting something back."
Concerning his personal involvement in citizen science, Steffen answered: "Many times I am an app tester – when new apps come out, I make it a point to test and use them. I also consider myself a citizen scientist, and therefore make contributions on different projects."
We asked Steffen to elaborate on the concept behind the WeObserve project. "The main role of WeObserve is to bring citizen science to the mainstream, to make people aware of its benefits, and to encourage them to participate in the project's Communities of Practice (CoPs), where we explore in detail specific themes related to citizen science (i.e. engagement, impact, interoperability, and United Nations Sustainable Development Goals (UN SDGs)). For example, in CoP-Engage, we explore different engagement strategies, as well as the means and methods citizens use to engage. In CoP-Impact, we want to bring together different stakeholders and public authorities, and demonstrate to public authorities the benefits of using citizen science for different applications such as disaster monitoring and management. We are working with Alto Adriatico, which has a wide range of experience using citizen science in water-level monitoring, for the purpose of educating other public authorities on the benefits of using citizen science."
Steffen emphasized that WeObserve aims to bring together the broader community involved in citizen science and COs, stating, "WeObserve operates as an open community that everybody can join. In CoP-interoperability, for example, we are looking at how to make all citizen science data searchable, findable, accessible, and understandable. We also want to find ways to disseminate this data and make it useful in different fields. We care that it be useful to the wider public. We are working to open this potential in some kind of federation where one can access a vast number of citizen science projects and tools, and also learn about citizen science. I think this interoperability part, of data and infrastructure, is an objective we must still pursue more intensively."
Finally, our discussion brought us to the recently launched CoP-SDGs. According to Steffen, this CoP theme came from an interest to better understand how citizen science can contribute to the monitoring of UN SDGs, as well as the potential of social innovation on behavioral change. "This is something we explore as part of WeObserve, how citizen science can help SDG related data collection, thereby contributing directly to SDG indicators and monitoring." He also highlighted some main related activities under WeObserve, such us upcoming CoP face-to-face meetings and the launch of a new Massive Open Online Course (MOOC).
When we asked what WeObserve means to him as coordinator and innovator within the project, Steffen answered: "WeObserve for me is a very important support and coordination action; it is a critical project. Through it we are engaging the existing citizen observatories and reaching out to all other citizen science projects. It is preparing the European citizen science community for the future – for example, with the COs cookbook we are developing. We are generating best practices as well as MOOCs about citizen science. WeObserve is a kind of cornerstone whereby we record and gather experience and information to help make citizen science mainstream in Europe."
In closing, we asked Steffen his opinion on how citizen science can increase its social outreach and benefits. He focused mostly on the role of the media, explaining: "I think a very critical and important factor is the media for boosting and promoting citizen science and citizen observatories. Without the media and its communication channels, citizen science is not going to pick up more because it is not yet a full trend. If you ask people on the streets 'what is citizen science?', there will not be many who know. The media can play an important role. In addition, effort should be made towards addressing the needs of citizens through citizen science. For instance, think about a health problem such as asthma. Somebody with asthma is interested in air quality, and this individual can directly benefit from a related citizen science initiative. It is critical to design citizen science projects that are relevant to individuals – their concerns, and the places they work and live. This is important for the future: make it relevant and promote it through the media."