Mozilla Festival 2018, London
Mozilla's annual festival at Ravensbourne University in London this past October (affectionately known as MozFest), brought together 2,500 attendees over the course of the 3 days, from more than 50 countries, to participate in more than 300 workshop sessions exploring topics such as openness, privacy & security, decentralisation, and web literacy.
"MozFest is an annual celebration of the world's most valuable public resource: the open Web. Participants are diverse — there are engineers and artists, activists and educators. But everyone shares a common belief: the Web can make lives better. The Web unlocks opportunity, spurs creativity, teaches valuable skills and connects far-flung people and ideas." –Mark Surman, Mozilla Foundation (https://2015.mozillafestival.org/expect)
Photos taken at the event can be found on Flickr.
WeObserve at MozFest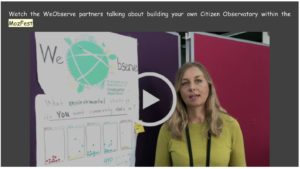 WeObserve took part in the Openness space at this year's MozFest, with a workshop called 'Build your own Citizen Observatory – A 'CookBook' for Air Q, Water Q, Land Use & Biodiversity monitoring', which we were pleased to see featured (out of 75+ sessions!) in an e-mail to all Facilitators, and in the MozFest 2018 Wrap-up post on Medium
The session was led by Margaret Gold from the European Citizen Science Association (ECSA), Saskia Coulson, and Mel Woods both from the University of Dundee.
Build your own Citizen Observatory (CO)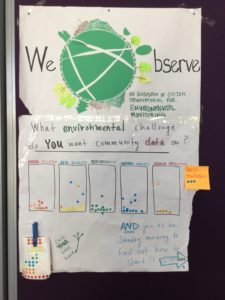 Citizen Observatories are community-based environmental monitoring initiatives, that lead to science, policy or governance outcomes for Air Quality, Water Quality, Sound Pollution, Smell Pollution, Land Use, Biodiversity, and many more areas of interest or concern.Although these types of projects are typically top-down and run by scientific researchers who partner with participants locally, many communities are starting their own investigations from scratch to investigate issues that are important to them and their neighbourhoods. These can be motivated by health concerns, safety concerns, or simply a passion for taking good care of the wildlife and natural ecosystems around them.
One of the central goals of the EU-funded WeObserve project is to make it easier for these initiatives to be successfully launched, by gathering and sign-posting the many excellent resources available, and also addressing some of the gaps by creating new resources.
To attract participants to our session, we had a poster up in the main space to invite people to vote on the environmental challenge that they want data on: Noise, Air, Biodiversity, Water, Odour. Although quite close, Air Quality was the clear winner, and so we made that the main area of focus for our workshop.
A 'Cookbook' for Air Quality CO initiatives
There are a huge range of tools and platforms that can be used for environmental monitoring, and an equally large number of places where data can be found or shared – but it is all very scattered, and a huge research effort if you are concerned about an environmental measure in your own community.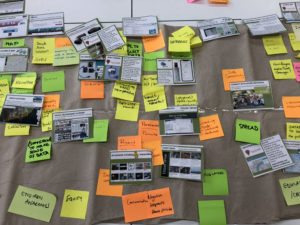 Our goal in the Session was to look at co-creating  a 'Cookbook' for building your own Citizen Observatory, sign-posting all of the possible tools and resources, communities and guidelines, and places to aggregate and share the data.
We had an excellent group of 20+ people join us in the session, bringing a wonderful mix of backgrounds, interests and expertise to the discussions. The participants ranged from those interested in running their own initiatives, to experts in sensing, open data, & service innovation, as well as knowledge of governance.
This enabled us to split up into two groups – one group looked at resource cards for Air Quality, and organised these around the stages of the process, and the other group  mapped out the journey and life-cycle of a CO. We brought the two groups back together again at the end, to map the resources against that journey and life-cycle.
We look forward to sharing the full write-up of the outcomes of our session on this website, along with what next steps we have planned, and invite anyone interested in staying abreast of developments to subscribe to the WeObserve newsletter.