WeObserve Communities of Practice launched its activities on 06/06/2018 within the Citizen Science Workshop Day of the 2nd International ECSA Conference in Geneva.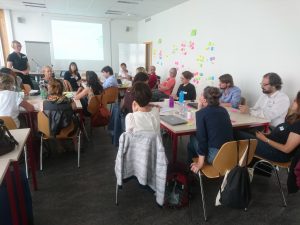 During three dedicated sessions the WeObserve Communities of Practice were served as the vehicle for exchanging knowledge and information on key thematic topics as well as strengthening the knowledge base about Citizen Observatories so as to move citizen science into the mainstream of environmental management and decision making.
More specifically, the first three CoPs had the following topics:
Co-creating citizen observatories and engaging citizens
Impact and value of citizen observatories for governance
Interoperability and standards for citizen observatories
Their main goal was to address incentives and barriers towards the citizen science involvement, to define impacts to governance on economic and environmental sectors and finally secure the citizen science data sustainability and interoperability.
The event met success bringing together about 50 participants, experts and stakeholders, and collecting useful data so as to configure the citizen observatories' future throughout the WeObserve ecosystem. Totally WeObserve will organize five CoPs. The other two will be held in the course of the project offering the opportunity to engage the participants on the consolidation of knowledge in the field of citizen science and citizen observatories.