A conversation among Dr.Saskia Coulson and Professor Mel Woods, discussing the WeObserve online course:
'Citizen Science Projects: How to Make a Difference'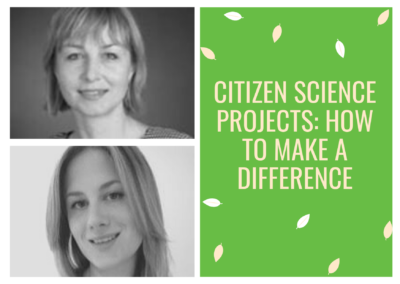 This course starts on the 18th of November, 2019, is free and open to everyone. Sign-up now on FutureLearn here!
Saskia Coulson (SC): The idea of Massive Open Online Courses (MOOCs) has been growing in popularity for the past few years. Why did WeObserve decide to make one about citizen science?
Mel Woods (MW): Citizen Science has also seen a huge rise in popularity, and now climate change is raising people's awareness, they want to do something, but it can be difficult to figure out where to start. The WeObserve project brings together four European and African Citizen Observatories (COs) combining efforts to tackle three main challenges that COs face: awareness, acceptability and sustainability. One of the four COs involved, the GROW Observatory, has been using MOOCs to support their participants on a learning journey about environmental issues, as well as train them to collect and use data. We also discovered that MOOCs were a great way for people from all over the world to learn together about citizen science and share their knowledge with each other, an added bonus is that the scientists who have written the course are able to join in and answer queries as well.
We're in turbulent times, and there are a lot of people who are very concerned with the environment, and are facing increasing climate events, like wild-fires and flooding. The WeObserve partners have been developing some really exciting projects, and now they can share their ways of working and knowledge in a MOOC to pass this on to others who want to do something similar. That's why we created this course.  We've seen how citizen science has empowered many individuals and communities in gathering evidence and creating strong cases for change, and also by taking matters into their own hands.
SC:  Yes, it's an idea that's been building for years. Many of the partners and COs have been promoting citizen science as a way to address the growing climate emergency. Since the WeObserve project began in 2017 we've been starting to think about what a WeObserve MOOC could be, but it was during the European Citizen Science Association conference in 2018 when everyone started to map out the development process and what our MOOC could look like.
Since then, we've been meeting in person and online to develop the course. After our first meeting, we decided that we wanted to open up to have input from others who work in the same area, so we created a survey which was shared across the international citizen science community. This helped us to refine the course and its structure.
Once we had the outline of the course, all the WeObserve partners started to create the course content, drawing on years of experience and expertise. We've been working on this material for a solid nine-months. It takes a lot to put together an online course!
MW: It does! However, FutureLearn has an incredibly easy to use platform for educators and learners. There is such diversity of materials and features get to interact with, they can even do it on their mobile, waiting at the bus stop! There are articles, videos, quizzes, polls and even study groups, all of which promote a rich and accessible learning resource. Even more so, FutureLearn promotes a very interactive approach. There is a strong focus on social learning, if you want to you can have discussions and dialogue between educators and learners and learners themselves.
SC: When learners join they can expect to join a community where peer-to-peer learning is at the heart of everything they do. They can also expect to have direct contact with the educators who have lead citizen science projects across many countries and for over many years. It is a friendly and open space and intended for anyone who is interested in citizen science.
MW: Exactly. We want everyone to feel welcomed, as long as they have an interest in citizen science and monitoring environments there is a place for them in this course. No requirements are necessary and everyone can join for free. However, if you want a certificate at the end, FutureLearn asks that you upgrade your membership status. There is an advantage if you want to carry on as it also gives you access to other courses, on nearly any subject imaginable, for an unlimited amount of time. So, what's next after the course?
SC: This is the first time this course is available and we are really excited to see who joins and hear from them about their own experiences in being part of a citizen science project, or maybe if they have aspirations of starting their own campaign.We will also run a WeObserve MOOC course next year, so keep an eye out on the WeObserve social media channels in the future too!