The first Citizen Observatories joint event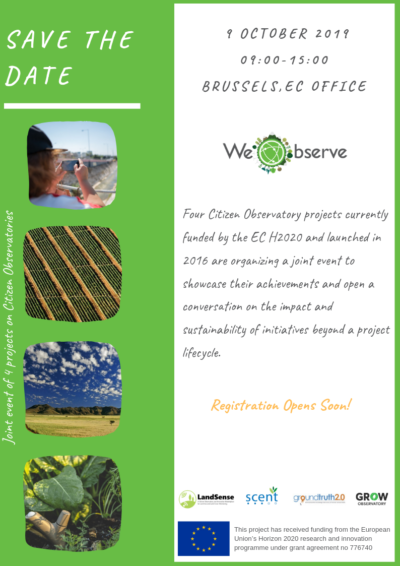 We are happy to announce the first joint event of 4 sister projects on "Citizen Observatories for Environmental Monitoring", taking place in Brussels on 9 October 2019!
Four Citizen Observatories (CO) projects launched in 2016 and funded by the EC H2020 are coming together to showcase their achievements and discuss the impact and sustainability of their initiatives beyond the project lifecycle.
Join us to learn more about these sister Citizen Observatories. We will discuss important issues affecting COs, including key challenges, methodologies and tools, impact and sustainability, as well as future opportunities.
Registration will open soon! Until then, mark your calendars and share our poster with your networks!
This event is organized by the WeObserve project, which aims to improve coordination among existing COs and related regional, European and International activities. The event will take place in Brussels in the offices of the European Commission (exact location tbd).