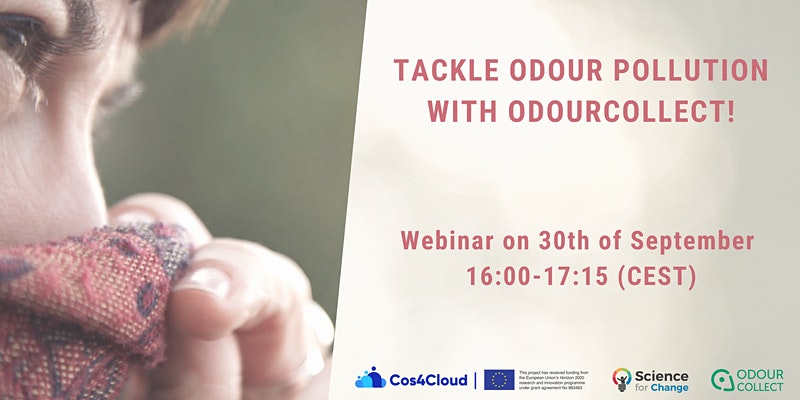 Tackle Odour Pollution with OdourCollect app
30 September 2020 @ 17:00

-

18:15
Odour pollution is the second reason for citizens' complaints after noise, across Europe. Frequent exposure to odour is associated with headache, stress and respiratory problems. Odour nuisance is an indicator of larger environmental issues, such as poor waste management or polluted water.
OdourCollect app is a citizen science observatory for the citizens to monitor odour pollution. Being aware of this pollution empowers us to press the goverments to design odour pollution control measures at local, national and global levels.
During the webinar, the participants will learn why it is important to measure odour pollution, how citizen science can be an ally to monitor it and how can participate in OdourCollect project!
Agenda:
Why is it important to measure odour pollution?
Citizen science as an ally to monitor odour nuisance
OdourCollect project: how does it work, how can you participate?
Questions
Where?
From home. Webinar via Zoom and live on Cos4Cloud's YouTube channel!
The speaker:
Rosa Arias is CEO and founder of Science for Change. She is a Chemical Engineer with more than ten years experience as innovation manager and environmental consultant in air quality, odour pollution at industrial level, sustainability and energy. She is the creator of the citizen science App OdourCollect that empowers citizens to tackle odour pollution.
The organizers:
Cos4Cloud is a project to boost citizen science technologies that will co-design and develop ten technological services to ensure the viability in the long-term of citizen science observatorie and help them reach a global scope. The services will be available in the new European Open Science Cloud (EOSC), a virtual space aimed at the European scientific community. In the project participate 9 citizen observatories, among them OdourCollect.
Science for Change tackles societal challenges affecting communities using innovative solutions based on citizen science.