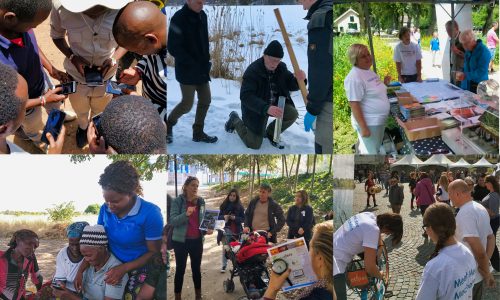 Ground Truth 2.0 Week 2019
30 September 2019 @ 09:00

-

4 October 2019 @ 18:00
The Ground Truth 2.0 team invites you to participate in a week of dynamic and interactive events.
Join Ground Truth 2.0 in a (virtual) tour across two continents and six citizen observatories before settling for two days of workshops in Delft!
30 September – 2 October 2019
Local events by the six Ground Truth 2.0 citizen observatories
3 – 4 October 2019
Two days of workshops in Delft
What to expect
Find out what citizen observatories are, in what ways they differ from 'normal Citizen Science' and how they allow communities of citizens, scientists and policy makers to jointly monitor and manage their environment.
Ground Truth 2.0 has helped to set up on two continents: Meet Mee Mechelen in Belgium, Maasai Mara Citizen Observatory in Kenya, Grip op Water Altena in the Netherlands, RitmeNatura.cat in Spain, VattenFokus in Sweden and Niti Luli Sesheke & Mufulani in Zambia.
During the Ground Truth 2.0 week, you can learn about the thematic focus, purpose and achievements of each observatory. Find out about the Ground Truth 2.0 co-design methodology that was developed and applied to set up these observatories – and how it can be adapted to different geographical contexts, social settings and thematic issues. Discover what stakeholder engagement strategies have worked where and why. Hear impact stories from the Ground Truth 2.0 observatories and share your own experiences with community-based environmental monitoring. Try out the platforms, apps and data quality tools that are supporting these observatories. And engage in discussions with the Ground Truth 2.0 team and other enthusiasts about what can help the uptake of citizen observatories in other regions, settings and topics.
Find out more information as well as the general program here.