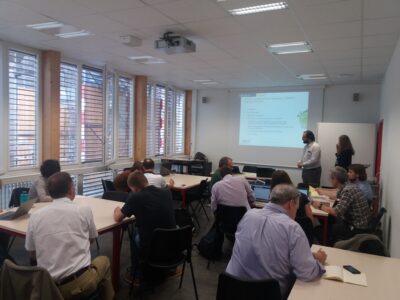 Citizen Science Interoperability Experiment – kickoff meeting
14 September 2018 @ 08:00

-

17:00
On June 6 2018, the EU-funded H2020 Coordination and Support Action, WeObserve, with assistance from NextGEOSS, held a pre-kickoff meeting for the CitSciIE. About 25 people attended the meeting and 2 groups started discussions on data sharing and project description metadata. Details of the meeting are available on the Pre-KickOff meeting webpage.
The official kick-off meeting took place on Friday, September 14th 2018 in Stuttgart, Germany. The goal was to demonstrate the interoperability within citizen science projects and the way PGC standards can be applied to citizen science. In particular, the following topics were addressed:
The use of OGC standards or (e.g. Sensor Web Enablement (SWE)) to support data integration among CS projects, and with other sources, esp. authoritative data (e.g by following SWE4CS);
How to document critical metadata, including data quality aspects, and generate a data quality label;
The integration of CS projects/campaigns in Single Sign-On system (SSO) federation;
The relationship(s) between OGC standards and data and metadata standards currently used by CS projects
In the kickoff meeting were confirmed the list of topics, were defined the goals and the components and the people that will participate on them. Furthermore, groups were formed to define the tasks and scenarios and the schedule to do them. The practical outcomes were also defined in terms of ER and demonstrations. For more information, please visit here.