An Ecosystem of Citizen Observatories for Environmental Monitoring
We are delighted to announce the release of our second WeObserve newsletter. We hope you enjoy it!

WeObserve is a three-year project, funded by the European Commission. More specifically, WeObserve is an H2020 Coordination and Support Action (CSA) which tackles three key challenges that Citizen Observatories (COs) face: awareness, acceptability and sustainability. The project aims to improve the coordination between existing Citizen Observatories and related regional, European and International activities.

The scope of the newsletter is to provide regular updates on project progress and inform you about highlights, WeObserve and other relevant events, as well as to call you to action! It is envisioned to have four e-newsletters per year following the seasonal model.

In the current second issue, among others, we discuss with Dr. Steffen Fritz, the WeObserve coordinator, about WeObserve project and citizen science in general, we provide you with an insight of our first-year plenary meeting in Venice, as well as about the WeObserve participation within the COWM Conference and the Communities of Practice' organization. In addition, we invite you to get social with us through joining our new Instagram account and encourage you participate in WeObserve awareness campaign. Last but not least, we give you an overview of the upcoming citizen science events and news.

If you wish to find out more and you cannot wait up to the next newsletter, visit our website on www.weobserve.eu

Have a nice spring!

The WeObserve team
An interview with Dr. Steffen Fritz, the WeObserve coordinator
We spoke with Dr. Steffen Fritz, the WeObserve coordinator, and head of the Center for Earth Observation and Citizen Science (EOCS) in the Ecosystems Services and Management (ESM) Program at the International Institute for Applied Systems Analysis (IIASA).
With citizen science gaining ground and trending in modern science, we asked Steffen his thoughts on why someone would want to be citizen scientist, and what would be the main benefits of getting involved in citizen science. "It is very important to understand the incentives of participants involved in citizen science," he emphasized, and then went on to name some of the main motivations currently known.

Read the full interview here.
Successful the WeObserve first year Plenary Meeting in Venice

The WeObserve consortium held its first year Plenary Meeting in November 2018, in Venice. The Plenary Meeting was hosted by the partner, Alto Adriatico Water Authority (AAWA), in Palazzo Michiel dalle Colonne.
One year into the project, it was great to hear all partners presenting the progress to date, including highlights and updates on the current status of their work and also planning the upcoming activities. Only just starting its second year, it's clear that the project has taken great steps towards moving citizen science into the mainstream.
All partners attending collaborated in the stimulating working sessions to develop forthcoming events and activities, emphasizing on the progress achieved and next steps for the Communities of Practice, the WeObserve toolkits and Massive Open Online Courses (MOOCs), with additional sessions on finding new ways to boost awareness and promote the uptake of project outcomes.
Read more
here

.
WeObserve project participated in COWM Conference
in Venice on 27-30 of November, 2018
The 2nd International Conference on Citizen Observatories for natural hazards and Water Management (COWM) took place in Venice, Palazzo labia, between 27 and 30 of November 2018. Social scientists, surveyors, engineers, scientists and other professionals from many countries, had the opportunity to present and discuss various topics related to Citizen Observatories (CO) and their impacts.
Participating in this great international event, the WeObserve consortium also launched its fourth Community of Practice (CoP) with its focus on the UN Sustainable Development Goals (SDGs), chaired by Dilek Fraisl from IIASA. Within this forum, the WeObserve coordinator, Steffen Fritz, spoke about how citizen science can contribute to UN processes, while the participants had the opportunity to discuss the potential benefits and challenges of applying citizen science data in the SDG process.
Read more
here
.
WeObserve is on Instagram
The WeObserve project has a new Instagram account you can follow!
The new WeObserve Instagram account is here to let videos and pictures talk about your experiences, citizen observatories' results and upcoming activities. Connect with our WeObserve team members and other citizen science passionate to exchange knowledge and practices. You can
join the account
here
.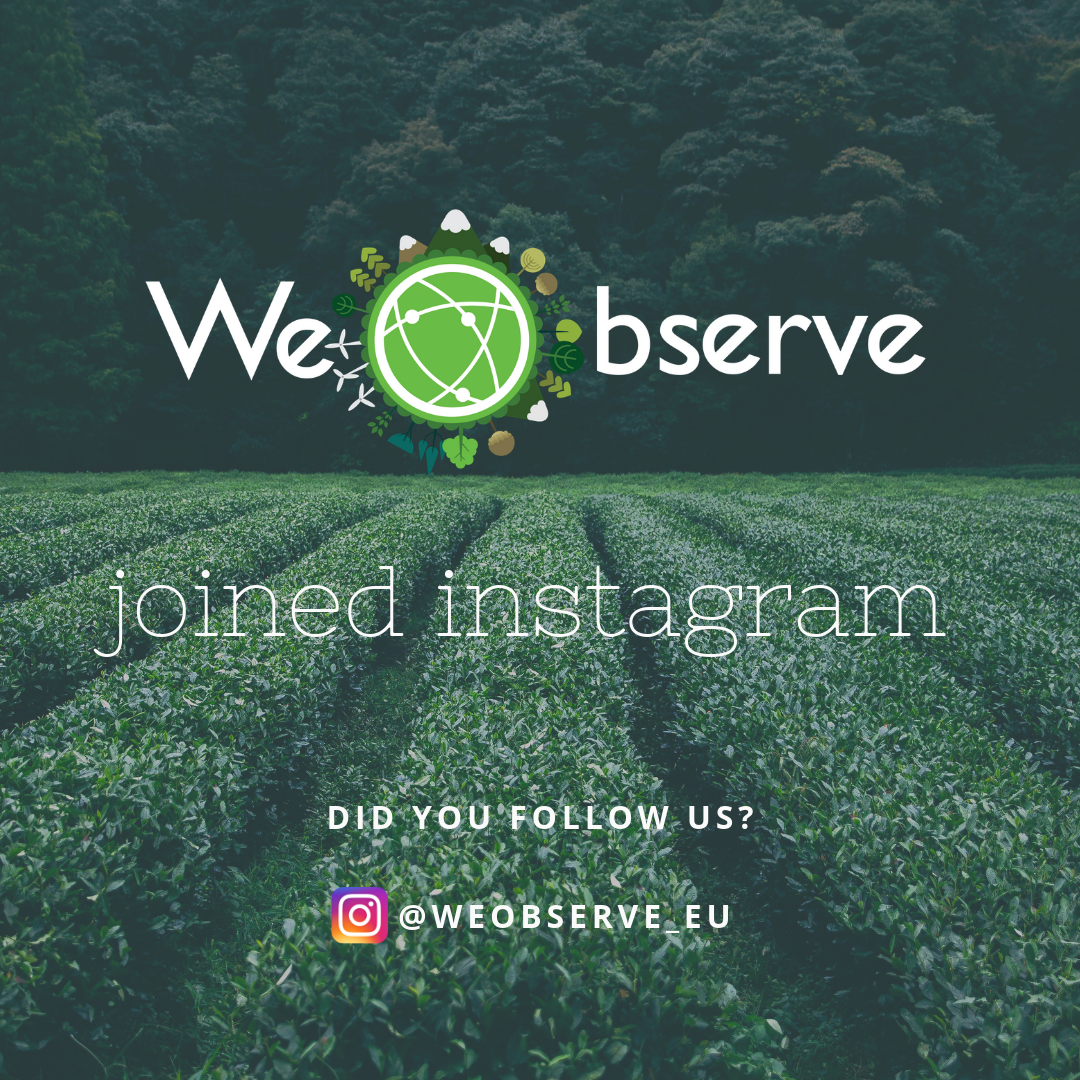 Join the WeObserve Awareness Campaign - #WeObserve4Earth
Share with us your
citizen science moments!
#WeObserve4Earth
A moment that you experienced the feeling of importance and usefulness through your involvement with citizen science or environmental monitoring. What it may be? Your participation in a project, a friendship with another citizen science passionate, a presentation, a trip e.t.c.
Every month, one picture will be the WeObserve picture of the month and be hosted in the WeObserve website.
The process is simple. You follow WeObserve on Instagram @weobserve_eu and upload your picture with the hashtag #WeObserve4Earth to make your post appear in our WeObserve account. Be the WeObserve picture of the month and see your picture being hosted in the WeObserve website.
#WeObserve4Earth will raise awareness about the advantages of being a citizen scientist for daily life, environment, research. The campaign will target the public and aims to encourage large number of people to get involved to such initiatives.

Scent invites you!

Join the Scent Appathon, take part in Scent Final Showcase and celebrate the end of the project with a citizen science experience!
Are you a developer? Join the Scent Appathon!
Our sister project, Scent, is looking for enthusiastic developers to take part in the Scent Appathon and to compete in the rapid development of a new smartphone application. Participants will be tasked to build an app that can train citizen scientists how to better use the Scent Explore App.
Read more

here

.
Take part in Scent Final Showcase in Athens, on June 20-21.
The Scent project organizes the Scent Final Showcase, in Athens, Greece, on June 20-21, 2019. During the Scent final event, participants will have the opportunity to learn all about Scent outcomes and achievements, during a Conference that will be held on the 20th of June.
Read more

here

.

Α new GROW video is on air. Watch it here!
Take part in GroundTruth Week 2019
The Ground Truth 2.0 team invites you to participate in a week of dynamic and interactive events. Join GroundTruth 2.0 in a (virtual) tour across two continents and six citizen observatories before settling for two days of workshops in Delft!
Save the date in your calendar, sign up for the Ground Truth 2.0 newsletter and follow #gt20 on social media to keep up to date on Ground Truth 2.0 Week 2019.
30 September – 2 October 2019
All six Ground Truth 2.0 citizen observatories (4 in Europe, 2 in Africa) will host local events. Participate locally or remotely via webinars. Local events will span a mix of data collection campaigns, demonstrations, workshops and panel discussions.
3 – 4 October 2019
Two days of workshops in Delft: find out about the Ground Truth 2.0 co-design methodology for setting up citizen observatories, try out the enabling technologies of these observatories and discuss conditions for successful uptake.

More information are available here.
OCRE project launched on January 2019
and aims to accelerate could adoption in the European research community
The Open Clouds for Research Environments project (OCRE), aims to accelerate cloud adoption in the European research community, by bringing together cloud providers, Earth Observation (EO) organisations and the research and education community, through ready-to-use service agreements and €9.5 million in adoption funding.
Cloud-based services offer the European research community a wealth of powerful tools, but for many researchers, these are currently out of reach, with suitable services difficult to find and select.

OCRE, which launched in January 2019, will address this by running a pan-European tender and establishing framework agreements with cloud service providers that meet the specific requirements of the research community, saving institutions the time-consuming and complex process of doing this themselves.

Read more here.
OGC invites developers to the OGC API Hackathon
The Open Geospatial Consortium (OGC) invites interested developers to the OGC API Hackathon, held in London on June 20 & 21, 2019.


The most important hackathon in OGC history is coming quickly. This hackathon will test draft OpenAPI-based specifications for features, coverages, map tiles, and processes using a common Application Programming Interface (API) template. The template will be based on the work completed to date on the OGC API - features specification (formerly referred to as

WFS3

). This event will be instrumental to the evolution of OGC web standards to a modern API-based approach, setting the course for open geospatial standards - in and outside OGC - for the next decade.

Read more

here

.

In this section find out the most important upcoming events.
For more events and more information per event, visit the
online calendar
in WeObserve website and stay up-to-date.
April 15-16, 2019
Toronto, Canada
May 13-17, 2019
Milan, Italy
May 28-31, 2019
Lisbon, Portugal
June 26-28, 2019
Dublin,Ireland
September 24-27, 2019
Florence, Italy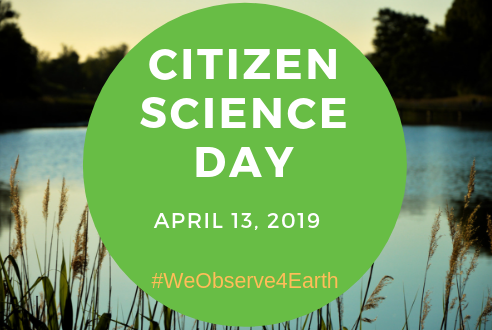 Let's celebrate the citizen science day with WeObserve.
Share with us your citizen science experiences in pictures or videos with the hashtag #WeObserve4Earth.
Let's make this day the most universally recognized day of the year!
Collaboration between Citizen Observatories
WeObserve participates in the
Common Dissemination Booster
, a service managed by the
European Commission
to encourage projects to come together as groups, to identify a common portfolio of results and to better disseminate to end-users with an eye on exploitation opportunities.
Together with the COS
Landsense
,
Scent
,
Ground Truth 2.0
and
GROW
,
we share our dissemination expertise, we work together towards goal fulfillment, we find synergies, bring together results to be commonly disseminated under the EU's H2020 programme.
Read more
here
.